An Eco-Friendly Company

At Sparklean, we believe it is important for us to do our part for preserving our environment. Green cleaning can improve indoor air quality and provide many health benefits for your employees as well as your clients, allowing everyone to enjoy a healthy, safe and pleasant work environment at all times.
We utilize an eco-friendly blend of certified biodegradable green cleaning products for disinfection, sterilization & deodorization customized by the Amvor Group. These "EcoPure" products to not contain the harsh chemical agents found in many national brands and conventional products. They are 100% biodegradable, highly effective, leave no residue and help prevent re-soiling. Used in conjunction with our chemical dilution control system for mixing our cleaning products without any waste, means that your facilities will be cleaner, for longer and in a way that protects the environment.
To further guarantee our environmental commitment to creating the healthiest work environment possible, Sparklean uses the most current eco-friendly tools available on the market, including:
Coloured micro-fiber cloths to eliminate cross contamination
Microfiber mops
Vacuums with Hepa filters
Green Clean
Sparklean uses "EcoPure" cleaning products made by the Amvor Group.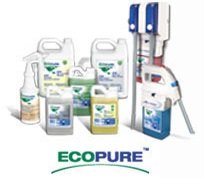 Some of our most commonly used products include (click on image for more information from the manufacturer's web site):